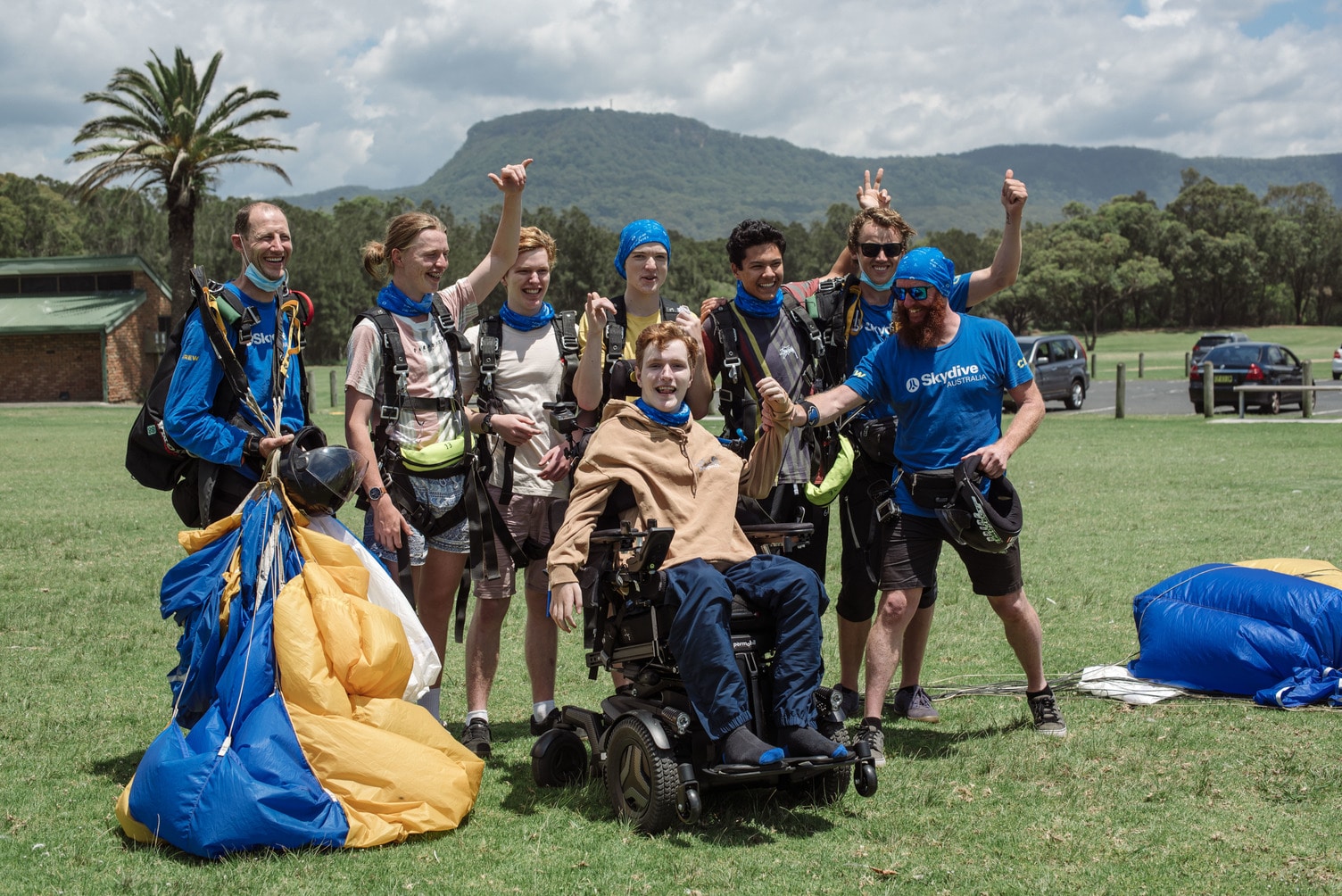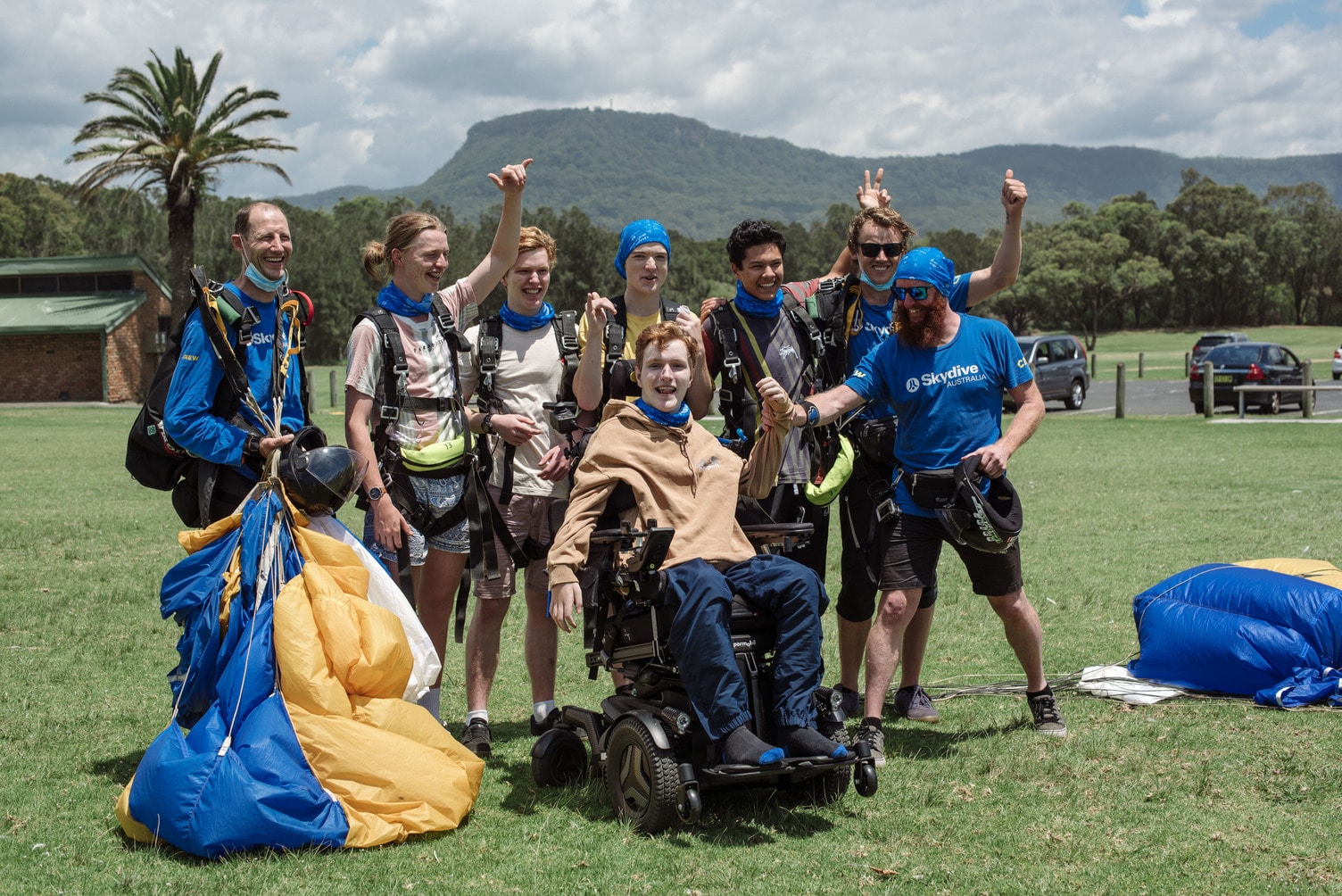 We recently had the pleasure of young Harrison and his group of mates join us at our Wollongong location for a group skydive. Harrison broke his C4 vertebrae during a mountain biking accident, and became paralysed from the neck down. Showing us and everyone around him that this wouldn't stop him from anything, Harrison decided to join us for a tandem skydiving adventure – on the same day he was discharged from rehab!
Read our interview with Harrison below to learn more about his journey and his skydiving experience:
CAN YOU PLEASE TELL US A LITTLE BIT ABOUT YOUR INJURY AND HOW IT IMPACTED YOUR LIFE?
I broke my C4 vertebrae mountain biking with some mates and my twin brother, instantly paralysing me from my neck down. Meaning, I went from a being pretty active kid to being unable to breathe unassisted or speak for 2 months in ICU. Since then, it's been a pretty big adjustment going in and out of rehab and hospital and keeping up with school, but I've got some pretty solid mates that've helped me through it.
HOW LONG HAVE YOU WANTED TO GO SKYDIVING FOR?
Only a couple months. Just after I was out of ICU in January last year, my friend Ben brought up going skydiving for his birthday. I thought it was a bit of a joke at first, as I still had a tracheostomy, so we put it on hold. Then COVID-19 delayed things a bit longer.
Finally, the opportunity came when I was in Royal Rehab. I brought it up with the Sport and Rec Officer, Kel Smith, and got the ball rolling. I chatted with some people who'd done it before, settling on my discharge day to make the jump my way home.
YOUR FRIENDS JOINED YOU ON THE DAY. ARE THESE YOUR FRIENDS FROM SCHOOL SINCE YOU WERE YOUNG? HOW SPECIAL WAS IT FOR YOU TO JUMP ALL TOGETHER?
I knew Gabe and Jake from primary school and met Ben first day of high school. They're all good mates and made the trip over the mountains to visit me in hospital more times than I can count. Stoked I got to jump with them!
YOU JUMPED WITH YOUR TWIN BROTHER JAMES, HOW INCREDIBLE IS THAT?
It was good to catch up with him after not seeing him much that year, so was a good way to finish it with him!
YOU MENTIONED FINISHING REHAB THAT MORNING WHICH IS AMAZING, CAN YOU TELL US A LITTLE ABOUT THAT?
That day was my discharge from a 3-month stint at Ryde Rehab. They were excellent at what they did and I made a lot of progress in my recovery in the time I was there. It had been months since I'd been home at that point though, so I was well and truly ready to be on my way, and what a way to go!
IN ORDER TO SKYDIVE, YOU WOULD HAVE NEEDED SOME CLEARANCE FOR THAT. WAS THE PROCESS EASY TO OBTAIN CLEARANCE FROM YOUR DOCTORS, AND WERE THEY SURPRISED THAT YOU WERE SO EAGER TO JUMP WITHIN THE SAME YEAR OF YOUR INJURY?
The whole process was pretty straight forward. After chatting with some people that had done it before, I told my doctor the plan. I think he was a bit surprised that I wanted to jump on my discharge day, (which is usually a busy enough day on its own) but he came round and was happy to write a doctor's note clearing me to jump.
WHAT DID YOU THINK OF YOUR SKYDIVE EXPERIENCE?
Loved it! More airtime than I got on any bike jump!
WOULD YOU DO IT AGAIN?
100%
WOULD YOU RECOMMEND SKYDIVING TO OTHERS?
Definitely – it has to be at the top of every bucket list.
WHAT'S NEXT FOR YOU? IS THERE ANYTHING NEXT ON THE BUCKET LIST TO DO?
Continue with rehab and school for the moment.  As far the bucket list? Not sure yet. Having trouble coming up with an idea that could top skydiving, maybe white water rafting or snow skiing.
Thank you again to Harrison and his friends & family who joined him on the day of his jump. We are so happy we were able to help you tick off this amazing bucket list item for you and we wish him nothing but the best for his recovery in the future.
Another massive thank you goes to our incredible team at the Wollongong DZ, who always go above and beyond to help people of all abilities experience the ultimate thrill of tandem skydiving!